Posts for: January, 2015
By Darrell C. Current, DDS, PA
January 29, 2015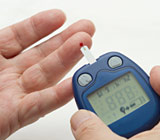 Periodontal (gum) disease, though it may be invisible to everyone but your dentist, can have a powerful effect on your entire body. Not only is it dangerous to your teeth and jaws, but it can increase your risk of heart attack and stroke, cause preterm births in pregnant women, and affect blood sugar control in diabetics.
Diabetics are our subject for today. Symptoms of diabetes include abnormally high levels of glucose (a form of sugar) in the blood, leading to frequent urination, excessive thirst, blurred vision, unexplained weight loss, and loss of energy. The disease can also cause severe complications in various parts of the body.
Normally, glucose, your body's main energy source, is kept under control by a hormone called insulin, which is made by an organ called the pancreas. In type 1 diabetes, a person's pancreas does not produce enough insulin to deal with all the glucose in his or her blood. In type 2 diabetes — a condition related to increased age, physical inactivity, overweight, and heredity — the pancreas may produce enough insulin, but the body is not able to use it effectively. This condition is called insulin resistance.
People with type 1 diabetes need insulin to survive. Type 2 may be treated with exercise, diet, medications, and insulin supplements.
Serious complications of diabetes range from kidney failure, blindness, and nerve damage to infections that do not heal, gangrene and amputation of limbs.
Diabetes and periodontal disease seem to have reciprocal effects on each other. Diabetics are more likely to have periodontal disease than non-diabetics; and those with periodontal disease are likely to face worsening blood sugar control over time.
Periodontal disease (from "peri", meaning around and "odont", meaning tooth), is caused by dental plaque — a film of bacteria that settles on your teeth and gums every day. It's what you remove with daily brushing and flossing. Any bacteria that remain cause inflammation, which can lead in the worst cases to loss of bone and eventual loss of teeth.
The close relationship of diabetes and periodontal disease probably results from changes in the function of immune cells responsible for healing. Inflammation is a part of normal wound healing — but chronic or prolonged inflammation can destroy the tissues it was meant to heal. This may be a major factor in the destructive complications of diabetes.
Many of these complications begin in the blood vessels. Like the eyes and the kidneys, gum tissues are rich in blood vessels. Gum tissues are also under constant attack from bacteria. If you are a diabetic, effective plaque control, along with regular professional dental cleaning, can have positive effects not only on periodontal disease, but also on control of your blood glucose level.
Contact us today to schedule an appointment to discuss your questions about periodontal disease and its connections with diabetes. You can also learn more by reading the Dear Doctor magazine article "Diabetes & Periodontal Disease."
By Darrell C. Current, DDS, PA
January 14, 2015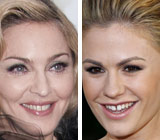 One's a singer who made her name playing New York clubs in the 1980's before catapulting to international pop stardom; the other's an actress from New Zealand who, in 1994, at the age of 11, became the second-youngest person ever to win an Academy Award. Both remain at the top of the A-list today. What other feature do Madonna and Anna Paquin have in common?
You guessed it — it's their teeth. Both have a small but noticeable gap between their two front teeth, known as a diastema. This condition is relatively common, and it's normally easy to treat — if that's something you'd like to do. But wait a moment… In certain African countries, this kind of smile is considered a sign of fertility; in France, they call it "dents du bonheur" (lucky teeth); some other cultures consider the gap a predictor of future wealth. So if you've already made this look work for you, there's no need to change it — even if you might need other cosmetic dental work.
The "perfectly imperfect" smile has become an increasingly popular option for people having veneers, cosmetic bonding, or even dental implants. Some trend-watchers have even noted a pushback against the ideal of a completely even, flawless, Hollywood-white smile. Does that create a problem at the dentist's office?
Absolutely not! We call the process of figuring out how your teeth should look "smile design" — and it's as much an art as a science. When we're just beginning to design your smile, we look at a number of features — including the size, shape, color and alignment of your teeth, the position of your lips, the amount of gums exposed, and the relationship between your smile and your other facial features. We're also listening carefully to you: what you like and don't like about your smile, how you think it could be improved… and what should stay just the way it is.
Of course, before doing any cosmetic work, we will always perform a complete dental exam to detect any underlying condition and determine what treatments are best. Then, we will work with you to help you get the smile you've always wanted. Not sure exactly how it will look when it's all done? Ask us for a preview — from computer-generated pictures to actual 3-D models, we can show you how your new smile will enhance your appearance.
So if your smile needs a little help to look its best — but you still want it to be uniquely yours — maybe now is the time to come in and see us. If you would like more information on smile design, please contact us or schedule an appointment for a consultation. You can learn more in the Dear Doctor articles "The Impact of a Smile Makeover" and "Beautiful Smiles by Design."